The Winners of the 2021 Children's Africana Book Awards are:
Best Books for Young Children
Nana Akua Goes to School

by Tricia Elam Walker & April Harrison (illus.)
Schwartz & Wade Books, 2020
Countries of Topic: Ghana / U.S.
Idia of the Benin Kingdom

by Ekiuwa Aire & Alina Shabelnyk (illus.)
Our Ancestors, 2020
Country of Topic: Nigeria
Honor Books for Young Children
The Talking Baobab Tree

by Nelda LaTeef
Sub-Saharan Publishers, 2020
Country of Topic: Senegal
The Arabic Quilt: An Immigrant Story

by Aya Khalil & Anait Semirdzhyan (illus.)
Tilbury House, 2020
Countries of Topic: Egypt / U.S.
Best Book for Older Readers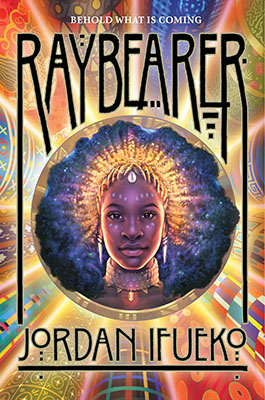 Raybearer

by Jordan Ifueko
Amulet Books, 2020
Country of Topic: Nigeria
Honor Book for Older Readers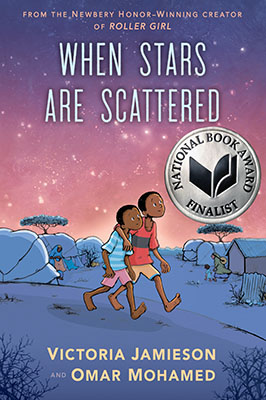 When Stars are Scattered

by Victoria Jamieson & Omar Mohamed
Dial Books for Young Readers, 2020
Countries of Topic: Somalia / Kenya
Best Book for New Adults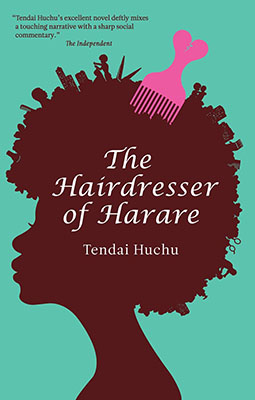 The Hairdresser of Harare

by Tendai Huchu
Weaver Press, 2010
Country of Topic: Zimbabwe
Best Books for Young Children
Nana Akua Goes to School.  Tricia Elam Walker and April Harrison (illus.). Schwartz & Wade Books, 2020.
Zura is worried about how her classmates will react to her Ghanaian Nana's facial marks on Grandparents Day, but Nana finds a way to show how special and meaningful they are.
Idia of the Benin Kingdom.  Ekiuwa Aire and Alina Shabelnyk (illus.). Our Ancestors, 2020.
Queen Idia of the ancient kingdom of Benin played an important role during the reign of her son, Esigie, who ruled the Benin Kingdom (located in present-day Nigeria) from 1504-1550. This story tells of a young Idia who pursued her dreams, believed in herself, and became the first Queen Mother of the Benin Kingdom.
Honor Books for Young Children
The Talking Baobab Tree.  Nelda LaTeef. Sub-Saharan Publishers, 2020.
A rabbit, lost in the desert and saved by a baobab tree, outwits a stronger, envious neighbor.
The Arabic Quilt, An Immigrant Story.  Aya Khalil & Anait Semirdzhyan (illus.). Tilbury House, 2020.
Kanzi's family has moved from Egypt to the U.S., and on her first day in a new school, what she wants more than anything is to fit in. Little does she know, her most treasured reminder of her old home will provide a pathway for acceptance in her new one.
Best Book for Older Readers
Raybearer.  Jordan Ifueko. Amulet Books, 2020.
Tarisai has always longed for the warmth of a family. She was raised in isolation by a mysterious, often absent mother known only as The Lady. When Tarisai comes of age, The Lady sends her to the capital of the global empire of Aritsar to compete with other children to be chosen as one of the Crown Princes' Council of Eleven. The Lady also has another more nefarious purpose. Will Tarisai carry out the Lady's wicked wishes or choose her own path?
Honor Book for Older Readers
When Stars are Scattered. Victoria Jamieson and Omar Mohamed. Dial Books, 2020.
This masterful graphic novel is based on the life of a real Somali boy and his mentally-challenged brother. When Omar Mohamed and his younger brother Hassan fled an attack on his village in Somalia  they became separated from their mother. They ended up in the Dadaab refugee camp in Northeast Kenya. The book charts Hassan's journey from his arrival in Dadaab,  through his teen years and his efforts to resettle in the U.S.
Best Book for New Adults
The Hairdresser of Harare. Tendai Huchu. Weaver Press, 2010.
Vimbai is a hairdresser, the best in Mrs. Khumalo's salon, and she knows she is the queen on whom they all depend. Her situation is reversed when the good-looking, smooth-talking Dumisani joins them. However, his charm and desire to please slowly erode Vimbai's rancour and when he needs somewhere to live, Vimbai becomes his landlady.
More about the Authors and Illustrators
The Arabic Quilt - Author
Aya Khalil, M.Ed, is a freelance journalist and author of THE ARABIC QUILT: AN IMMIGRANT STORY (2020 Tilbury House), a 2021 NCTE recommended Charlotte Huck Award and Ohioana's 2021 Floyd Pick Honor Book Award and 2021 Notable Social Studies Trade Book. Her debut was inspired by real events growing up as an Egyptian-American.  She holds a Master's of Education with a focus in Teaching English as a second language. As a freelance journalist, she's written about numerous Muslim-related issues and has been published by Huffington Post and quoted in Teen Vogue.
Find her at twitter.com/ayawrites
The Arabic Quilt - Illustrator
Anait Semirdzhyan grew up in a multicultural family and lived in several countries with diverse cultures before settling in the Seattle area with her husband and twin daughters. She studied Economics, but art has been her true path since she was a child, so now she happily dedicates herself to children's book illustration. She creates her illustrations by using traditional Ink and Watercolor and is always eager to experiment with new media and techniques. Find out more about her work at www.anaitsart.com
Idia of the Benin Kingdom - Author
Ekiuwa Aire was born and raised in Benin City, Edo, Nigeria. She moved to England when she was nine and it was here, away from all she had grown up with, she discovered her passion for writing. Ekiuwa co-wrote her first book while finishing high school and continued developing her craft while earning a Bachelor of Economics and a Master of Business Administration. She is passionate about African history and incorporates the richness of many cultures into her books. Now a mother living in Canada, Ekiuwa hopes that her books will help kids develop an appreciation for African history, and to value the wisdom and pride that will come from this knowledge.
Idia of the Benin Kingdom - Illustrator
Alina Shabelnyk is a professional illustrator of children's books, founder and head of the "Nimble Pencils" agency. She is the illustrator of the book "Idia of the Benin Kingdom" by Ekiuwa Aire.
Alina is from Kiev, Ukraine. From early childhood, Alina studied fine arts and its history. In 2019 she received a bachelor's degree in the specialty "Fine Arts" at National Technical University of Ukraine "Igor Sikorsky Kyiv Polytechnic Institute", Ukraine. After that, to deepen her knowledge in the field of children's illustration in 2020 she received the title of Master of Fine Arts at the same University.
Alina is passionate about illustrating exciting stories for children. Alina is happy to create books that help children learn more about the world around them, its history and culture, that help them fight their fears and believe in themselves and their abilities.
In 2019, Alina founded the agency of talented illustrators – "Nimble Pencils", which helps authors bring their stories to life.
Nana Akua Goes to School - Author
Tricia Elam Walker is an award-winning author, educator and recovered lawyer. Her first novel, Breathing Room, was published by Simon & Schuster/PocketBooks in 2001. Her work has appeared in The Washington Post, The Baltimore Sun, Essence and other publications. She has provided commentary for NPR, CNN, the BBC and more.
Tricia's short stories are included in the O.Henry Prize Stories, New Stories from the South and other anthologies and her essays are published in Father's Songs, Dream Me Home Safely, It's All About Love and more. Several of her plays have been produced and her first children's book, Nana Akua Goes to School, was published by Random House in June 2020 and won the 2020 Children's Africana Book Award and the 2021 Ezra Jack Keats Writer Award.
She is an Assistant Professor of Creative Writing at Howard University and resides in Takoma Park, MD with her husband.
Nana Akua Goes to School - Illustrator
April Harrison, Fine Artist turned Children's Book Illustrator in 2019. Recipient of the 2020 Coretta Scott King-John Steptoe New Illustrator Award for "What is Given From The Heart" by the late Patricia McKissack. Also recipient of the CABA 2021 Best Book for Young Children Award for "Nana Akua Goes To School" by Tricia Elam Walker.Her latest book release is "Shirley Chisholm Dared" by Alicia D. Williams, which was released June 2021. April's upcoming titles are "H is for Harlem" by Dinah Johnson which is scheduled for release spring of 2022 and "Me and the Boss" by Michelle Edwards scheduled for release the fall of 2022.
When Stars are Scattered - Author
Omar Mohamed spent his childhood at the Dadaab camp, after his father was killed and he was separated from his mother in Somalia. He devoted everything to taking care of his younger brother, Hassan, and to pursuing his education. He now lives in Lancaster, Pennsylvania, with his wife and five children, and works at a center to help resettle other refugees.
He is the founder of Refugee Strong, a nonprofit organization that empowers students living in refugee camps.
When Stars are Scattered - Illustrator
Victoria Jamieson - I grew up in Havertown, Pennsylvania, where I wrote and illustrated my first book in the third grade. SUPER COW! was a smash hit both with critics (my teacher) and collectors (my parents).
When I was twelve years old, my family moved to Florida. My parents tried to get me and my two brothers excited about our move by buying us season passes to Disney World. I loved watching the animators at work on the Backstage Tour, and I decided I wanted to work for Disney when I grew up. 
I attended the Rhode Island School of Design, but soon found myself drawn back towards illustration instead of animation. After graduation and a slew of ill-fated careers (including a portrait artist on a Carnival Cruise ship and a conductor of illegal tours through the Vatican Museums), I began working as a book designer with HarperCollins Children's Books in New York. 
Many of my books are based on my real-life experiences. I played roller derby with the Rose City Rollers in Portland, Oregon- which is why I wrote ROLLER GIRL. I also worked at the Bay Area Renaissance Festival in Florida when I was in high school, which is the basis for ALL'S FAIRE IN MIDDLE SCHOOL. And lastly, my older brother had two pet hamsters when we were kids, named George and Martha Washington- hence, G.W. in THE GREAT PET ESCAPE.
The Talking Baobab Tree - Author & Illustrator
Nelda LaTeef is an award-winning author and illustrator. She grew up in a US Foreign Service family, and attended schools in Africa, Europe, and Asia.  Her children's picture books, The Talking Baobab Tree (2020) and Animal Village (2018), were named Kirkus Reviews' Best Books of the year, and The Hunter and the Ebony Tree received the Storytelling World Honor Award. Her books have received the Children's Africana Book Award, Storytelling World Winner Award, Literary Classics International Gold Medal, and they have been translated into many languages. Nelda holds a degree in social anthropology from Harvard University and is the author of Working Women for the 21st Century: Fifty Women Reveal Their Pathways to Success, selected by the New York Public Library as the best career book for young adults. Her latest children's picture book, African Proverbs for All Ages, which she illustrated and co-authored with Dr. Johnnetta Betsch Cole, was selected by Oprah Winfrey as her first children's Oprah Book, and it has been named a Junior Library Guild (JLG) Gold Standard Selection.
Raybearer - Author
Jordan Ifueko is the NYT Bestselling Author of the RAYBEARER series. She's a Nebula Award, Ignyte Award, Audie Award, and Hugo Lodestar finalist, and she's been featured in People Magazine, NPR Best Books, NPR Pop Culture Hour, & ALA Top Ten. The San Fernando Valley-based author of "Raybearer" was just 13 when she began building the world that would develop into this Young Adult fantasy. "One thing that I say a lot is that, as a bookworm Black girl, I loved fantasy, but it isn't a genre that ever loved me back because it didn't represent people of color then, and still doesn't now, although it's getting a lot better," says Ifueko, who was born in Southern California to parents originally from Nigeria.