About the Center
The Center for African Studies (CfAS) at Howard University is a comprehensive Title VI National Resource Center and a campus-wide hub that supports and enhances Africa-related teaching and research across Howard University's schools, academic departments and centers. In accordance with the mission and vision of Howard University, the Center works to consolidate and expand the legacy of HU as a leader for America and the global community in relation to the study of Africa. The Center promotes and supports teaching of African languages (Amharic, Arabic, Somali, Swahili, Wolof, Yoruba and Zulu) in the Department of World Languages and Cultures, as well as research, instruction and training in other academic and professional fields to provide a fuller understanding of Africa.
About our Logo
The logo of the Center for African Studies features an Adinkra symbol. It is a symbol for knowledge, life-long education and continued quest for knowledge. Below the symbol is the Akan phrase Nea Onnim No Sua A, Ohu meaning "He who does not know can know from learning."
Welcome Video
History
Africa, Africans, and people of African descent are central to the vision and of Howard University since its inception in 1867. Howard University (HU) is a minority serving institution whose commitment to African Studies is strong and longstanding. Since the formal establishment of a graduate program in African Studies in 1953 and an undergraduate program in 1991, HU has consistently provided substantial financial, material and other support to the Department of African Studies, the core of Africans Studies at HU, as well as other academic and professional units that do Africa related teaching and research. HU scholars such as William Leo Hansberry, Carter G. Woodson, Alain Locke, Rayford Logan, Kelly Miller, Dorothy Porter, Ralph J. Bunche, E. Franklin Frazier, Melville Herskovitz, Leon Damas, Sulayman Nyang, Ronald Walters, Robert Cummings and countless others played key roles in establishing and developing Africa related interdisciplinary study at HU. In 1969, Howard University became the first university in the United States to offer a Ph.D. in African Studies. The Center for African Studies (CfAS) at Howard University, established in 2014, is heir to this glorious heritage and legacy.
Outreach
HU CfAS operates an Outreach Center for teaching and learning about Africa. In partnership with Africa Access and the HU School of Education, the Outreach Center works to enhance capacities of DC metro area K-12 teachers, community and four year colleges on Africa-related pedagogy, as well as easy access to a range of useful content resources for Africa. Learn more about CfAS Outreach.
National Resource Center
Howard University is one of ten US universities and the only HBCU designated by the US Department of Education as a comprehensive National Resource Center for African Studies. HU CfAS is funded by the U.S. Department of Education under the Title VI National Resource Center program for foreign languages and areas studies. The Howard University CfAS is the only HBCU funded comprehensive National Resource Center in the United States. The Center provides Foreign Language and Area Studies (FLAS) academic year and summer fellowships to undergraduate and graduate students.
The Center has affiliated research and teaching faculty in almost all schools and disciplinary departments at Howard University. Two streams are available for majors, minors and concentration in African Studies, as well as courses, projects and study in Africa – the Department of African Studies (DAS) and more than 16 other academic departments. The Department of African Studies offers a B.A, M.A., and Ph.D. in African Studies. It has a minor in African Studies as well at the undergraduate level. Almost all other departments and schools at HU – History, Political Science, Economics, English, World Languages and Cultures, Afro-American Studies, Art History, Sociology and Anthropology, Philosophy, Atmospheric Sciences, Film, Media and Culture, Engineering, International Business, Pharmacy, Divinity, Social Work – offer formal concentration, coursework, study, rotation and research in Africa and Africa projects.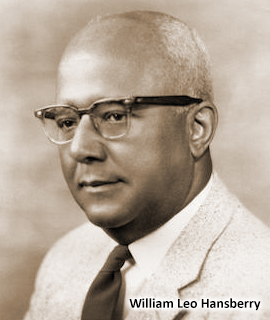 "No institution is more obligated and no Negro school is in a better position to develop such a program than Howard. No institution has access to specialized libraries – the Moorland Collection [at Howard], and city repositories; nowhere else are the thought and planning put forth; no better courses exist anywhere else, there are no better trained student anywhere, by virtue of racial background. This is the area in which Howard has the most promising and immediate opportunity to distinguish itself as a leader in the general cause of public enlightenment." – William Leo Hansberry