Fulbright-Hays Swahili Group Project Abroad in Tanzania
All 2020 Swahili summer programs have been postponed due to the COVID-19 Pandemic. Please contact Dr. Leonard Muaka for more information at leonard.muaka@howard.edu.
The Swahili Group Project Abroad (GPA) in Tanzania is part of the Fulbright-Hays Group Projects Abroad Program of the U.S. Department of Education and is coordinated by the Department of World Languages and Cultures in collaboration with the Center for African Studies at Howard University in Washington DC.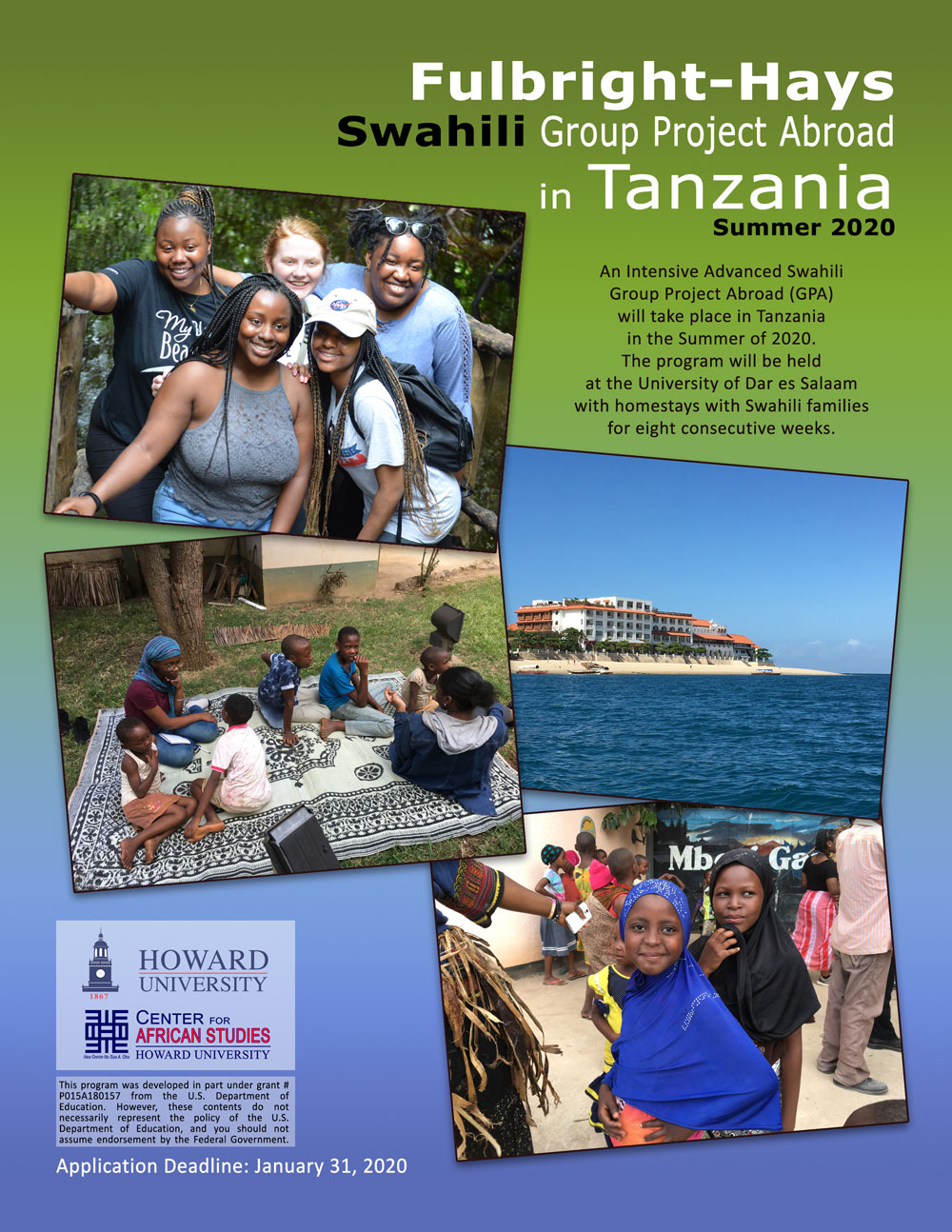 The Program
An Intensive Advanced Swahili Group Project Abroad (GPA) will take place in Tanzania in the Summer of 2020. The program, which will be held at the University of Dar es Salaam, will include:
5 to 6 hours of intensive daily Swahili language instruction and interactions
Cultural activities
Excursions to historical and cultural sites on weekends
Homestay with a Swahili family for eight consecutive weeks
Eligibility
A participant in the Swahili GPA program must:
be a U.S. citizen or permanent resident
have had at least three or four semesters of Swahili language instruction
have commitment to a career in African Studies
Program Costs:
The Fulbright-Hays Swahili GPA grant covers the following expenses:
International travel to and from Dar es Salaam, Tanzania from Washington DC
Overseas Tuition
Accommodation and food for the duration of the program
Program-related transportation in Tanzania
Educational materials distributed during the program
The grant does not cover:
Program Fee of $1000 that covers administrative expenses in the United States
Local travel from the participants' homes to Washington DC airport and return after the program.
Mandatory health insurance for the summer abroad in Tanzania
Passport and visa fees
Immunizations and other health-care expenses related to travel
Travel done on the student's own time and initiative in Tanzania
Personal shopping and gifts
Apply for the Program
Swahili GPA Applications for Summer 2020 are now closed. Online Applications for Summer 2021 will be available in the Fall of 2020.
Deadline: January 31, 2020
Please submit the following:
The Fulbright-Hays Swahili GPA application online.
Original, official academic transcripts from your current college/university.  If your Swahili study was done elsewhere, transcripts from the school should be requested as well.
A Referee Letter from your most recent Kiswahili instructor giving an evaluation of your speaking, reading, and writing proficiency in Kiswahili.  Frank, candid evaluations will be highly valued.  This evaluation should be mailed by the evaluator directly to Dr. Leonard Muaka by the deadline for applications. You may also email these directly to them at: leonard.muaka@howard.edu. Download the Referee Letter Form.
One additional letter of recommendation from current and/or former instructor. These should also be sent directly to Dr. Leonard Muaka by the deadline.
*Please note that only original transcripts will be accepted.  While these may be submitted by you with the application, the letters of reference must be mailed directly to Dr. Leonard Muaka by the referees.
Oral Proficiency Interview:
Sometime during the month of February, a selection committee member will contact you by phone to interview you in Kiswahili.  In anticipation of this, ask your Swahili instructor to give you practice speaking over the phone. Dr. Muaka is available to assist you during the preparation of your application. Please contact him for more information.
Acceptance Procedure:
Acceptance to the program will be made by the GPA Swahili Consortium Committee, consisting of specialists in Swahili from several universities, and is based on the requirements stated on the Program Announcement.  Each member of the committee will have access to the application packet to evaluate your request for a GPA Fulbright-Hays fellowship.  It is crucial, therefore, that you follow the application procedure carefully and submit your completed application by January 31, 2020.
Notification:
If you are a successful applicant and recipient of a fellowship, you will be notified by the end of February 2020.  At that time, you will be sent additional information concerning the program.
Other Support:
In years past, the grant from USDE has not been sufficient to accept every eligible student.  Applicants who do not make the list are advised to speak to their respective African Studies programs about the possibility of receiving support from their own institution.
Equal Opportunity and Diversity Policy:
Howard University, as a community of scholars, is committed to the elimination of discrimination in education and the provision of equal opportunity in education. In compliance with state and federal laws and regulation, we do not discriminate on the basis of age, color, disability, gender identity or expression, marital status, national origin, race, religion sex, sexual orientation, or veteran status in any of our policies, procedures, or practices. This non-discrimination policy covers admission and access to, and treatment, in all programs and activities, including but not limited to, academic admissions, financial aid, educational services and employment.
For more information please contact the Office of the University Secretary for more information using the following contact information:
Howard University Office of the Secretary
2400 Sixth Street, NW, Suite 440, Washington, DC 20059
Email: os@howard.edu
For more information contact:
Leonard Muaka Ph.D.
Department of World Languages and Cultures
(202) 250-6514
(202) 806-4121
leonard.muaka@howard.edu