Our Summer Course with Amb. Kamissa Camara was filled with exchanges between scholars and practitioners from around the world
September 15, 2021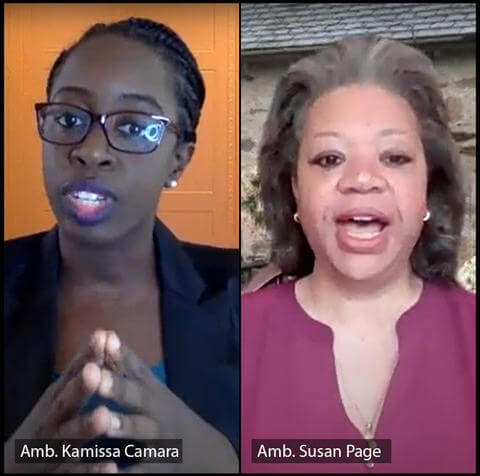 During the Summer, the Center for African Studies hosted it's first online course Advanced Seminar in African Policy. The course was led by Ambassador Kamissa Camara, former Minister of Foreign Affairs in Mali, who is currently, a senior visiting expert for the Sahel at the U.S. Institute of Peace. Camara has written political analysis and has been a political commentator on CNN, Aljazeera, Voice of America, The Washington Post, France24, and RFI, among others.

The course brought together a cohort of young scholars and practitioners engaged in US–Africa policy to offer a practical understanding of current political, economic and security developments on the continent. Guest speakers included influential diplomats and policymakers, such as Ambassador Susan Page, the first U.S. Ambassador to South Sudan and Ambassador Makila James, former U.S. Ambassador to the Kingdom of Eswatini.

Students and practitioners from all over the world participated, including from: Strathmore University (Kenya), UC Berkeley, African Leadership University, University of Brasilia (Brazil), Martin Luther King Jr. Center for Nonviolent Social Change, Nigerian Defense Academy, Obafemi Awolowo University, Ile-Ife (Nigeria), University of Cambridge, Ecole de Management Léonard De Vinci (France), The Fletcher School of Law and Diplomacy, Northeastern University, Our Lady of the Lake University, University of Toledo, University of Nigeria, Nsukka, University of Peace, Lund University (Sweden), Thiel College, Onabisi Onabanjo University (Nigeria), and the US Department of State, as well as Howard University.

Here is how scholar, Cesar Gonzalo Davila Novoa, summed up his experience:

"The 2021 cohort had highly qualified students/professionals from different parts of the world including the U.S., Europe and Africa. Through the interactive live sessions, guided by Ambassador Camara, students were able to solve inquiries and discuss class materials. Particularly, as part of a MSc in Economic Development at Lund University in Sweden, I am researching the relationship between agricultural transformation and economic development in Ghana. Being a Peruvian student in Sweden, for me it was of extreme value to network and hear the opinions of students who are experts in, are from, or are currently living in, Africa. 

Despite having a focus in U.S. policy towards Africa, the course also covered the increasing value of Africa towards other regions and the involvement of other actors like Russia and China. Most importantly, the course provided insights into the desires and needs of Africans, as well as tools to understand the internal mechanisms through which African countries are seeking mutual collaboration like the African Union or the Regional Economic Communities. The course was dynamic with fully engaged students who provided constant feedback to each other. With the shared knowledge, we were able to learn, grow together, and have a better understanding of African policy."
Categories
Announcement, News, Faculty/Staff Highlights and Student Highlights