Learn Zulu with Zulunomics!
April 23, 2021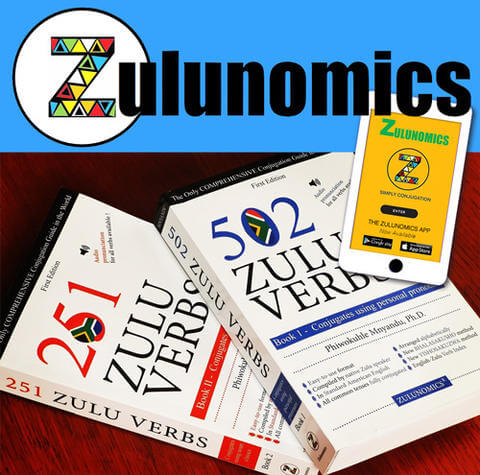 AUTHOR: Phiwokuhle Mnyandu, Ph.D.
BOOK TITLES: 502 Zulu Verbs and 251 Zulu Verbs
Are you studying or teaching Zulu
and wish there was an easier way?
Enter a modern solution - Zulunomics - a collection of books, e-books, an app (on both Android and iPhone), flashcards, posters and downloadables! Developed by Dr. Phiwokuhle Mnyandu of Howard University (H-U!!) and his team, this array of learning materials will rev up your progress!
About the books:
502 Zulu Verbs, Book I - Conjugates using personal pronouns. This is the first comprehensive conjugation guide of Zulu verbs in the world. It conjugates 502 Verbs into 17 tenses + infinitive. It also serves as a mini English-Zulu verb dictionary.
251 Zulu Verbs, Book II - Conjugates using noun classes. This conjugates 251 Verbs into 17 tenses + infinitive, using noun classe 1-15 for each tense. It also introduces a modified noun classification system that includes zulucized nouns (Z1 ans Z2), which increasingly form a significant part of the language. The book also introduces ZOPS (Zulu Ordinal Prefix System) for abbreviating ordinal numbering, a Zulu language first. It also serves as a mini English-Zulu verb dictionary.
About the App:
Zulunomics app (Android and iPhone): Conjugates Zulu verbs into 17 tenses + infinitive. MINI DICTIONARY & THESAURUS. The first and most comprehensive app for conjugating Zulu tenses. The first comprehensive isiZulu app by a native speaker. The app has audio for 1000 verbs as well as other pronunciation guides. It also serves as a searchable MINI Dictionary and MINI THESAURUS. It conjugates 1000 verbs and negates each and every one of them as well. It has a DISCOVER feature  (simile, antonym, verbal noun, etc) which has over 10,000 terms. 
More learning resources are available on the website: zulunomics.com.
Categories
Faculty and Alumni Publications and Book Releases