Thank you for joining our Book Talk with Paul Landau
September 28, 2022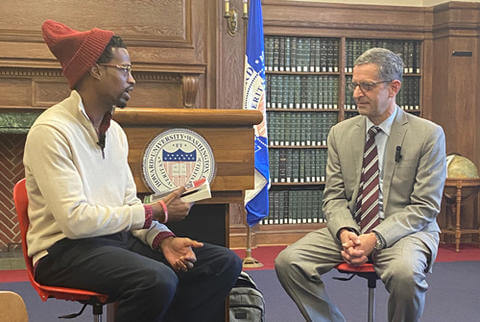 Thank you for joining us on September 27 at our in-person Book Talk, a part of the Palaver Series, with author Paul S. Landau about his latest book, Spear: Mandela and the Revolutionaries. Our discussant was DaQuan Lawrence, African Studies graduate student and human rights activist.
This event was co-sponsored by Howard University Center for African Studies, the Department of African Studies and the Department of History.
ABOUT THE AUTHOR
Paul S. Landau is a professor of history at the University of Maryland at College Park and a fellow of the History Centre of the University of Johannesburg. His two previous books, The Realm of the Word: Language, Gender, and Christianity in a Southern African Kingdom (1995) and Popular Politics in the History of South Africa, 1400–1948 (2010), were both finalists for the African Studies Association Herskovits Prize. Landau is interested in visual culture, religion, and popular politics. He lives with his family in Washington, DC.
ABOUT THE BOOK
Spear: Mandela and the Revolutionaries
By Paul S. Landau
Spanning the years just before (and just after) Nelson Mandela's 1962 arrest, this entirely fresh history of Umkhonto we Sizwe (MK), or Spear of the Nation, and its revolutionary milieu brings to life the period in which Mandela and his comrades fought South Africa's apartheid regime not only with words and protests, but also with bombs and fire.
Categories
News