Our Brenda Randolph receives the NCAC Free Speech Defender Award
October 22, 2021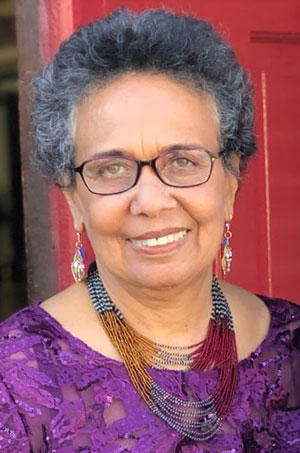 The Center for African Studies' Brenda Randolph is receiving the Free Speech Defender Award from the National Coalition Against Censorship (NCAC) for promoting non-stereotypical books on Africa for young people. Watch the Benefit live on November 10 at 7pm ET.
Register: ncac.org/about-us/events/benefit-2021
About Brenda Randolph 
Brenda Randolph is the president of Africa Access and Outreach Director at the Title VI Center for African Studies, Howard University. She holds a B.A. degree in History from North Carolina Central University, a Master's in African Studies from Howard University, and a Master's in Library and Information Services from the University of Maryland, College Park. She has worked as a school librarian in Virginia, Massachusetts, and Maryland. In the late 1960s, she co-founded the Southern Africa Relief Fund to assist the victims of apartheid and Portuguese colonialism. In 1989 she founded Africa Access to combat stereotypes about Africa and help schools, public libraries, and parents improve the quality of their K-12 collections on Africa. In 1991 Africa Access, in collaboration with the African Studies Association, founded the Children's Africana Book Award that honors the authors and illustrators of outstanding K-12 books on Africa. In 2015, Ms. Randolph created the Discover Africa in the Americas website and in 2020 The Gold Road website in collaboration with the African Studies Centers at Howard University and Boston University.
NCAC's Mission
Every generation of Americans faces new and significant challenges to free expression. For almost 50 years, NCAC has acted as a first responder to protect this freedom, which is both a fundamental human right and a keystone of democracy in the ever-changing American nation. We promote freedom of thought and inquiry and oppose censorship. When controversy occurs, we encourage and facilitate dialogue between divergent voices and perspectives, including those that have historically been silenced.
Categories
Announcement, News, Faculty/Staff Highlights and Achievement