New African Film Festival 2022
March 18, 2022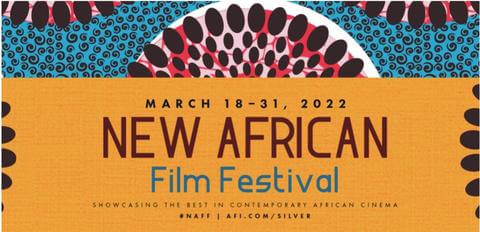 AFI Silver Theatre and Cultural Centre
8633 Colesville Road, Silver Spring, MD
March 18–31, 2022
 
Now in its 18th year, the New African Film Festival (NAFF), presented by AFI and Africa World Now Project, brings the vibrancy of African filmmaking from all corners of the continent and across the diaspora to the Washington, DC, area.
Opening with Saul Williams and Anisia Uzeyman's Rwanda-set Afrofuturist extravaganza NEPTUNE FROST, this year's fully in-person festival features 28 films from 17 countries, including five U.S. or North American premieres. Additional highlights include Chad's official Oscar® submission LINGUI, THE SACRED BONDS, from master filmmaker Mahamat-Saleh Haroun; Ghanaian American filmmaker Nana Mensah's Tribeca award-winning comedy QUEEN OF GLORY; Congolese director Jean Luc Herbulot's epically genre-shifting creature feature-western-action-heist-revenge thriller SALOUM; Tunisian filmmaker Leyla Bouzid's Cannes-premiered coming-of-age tale A TALE OF LOVE AND DESIRE; the U.S. and North American premieres of powerful Ethiopian documentaries AMONG US WOMEN and STAND UP MY BEAUTY; and Senegal-born French actress-turned-director Aïssa Maïga's acclaimed water crisis documentary ABOVE WATER, screening on March 22 in recognition of World Water Day.
Media Sponsor: WPFW
NAFF All-Access Pass--The Pass grants you admission for one to every film in the New African Film Festival, including Opening Night. Click here to purchase the NAFF All-Access Pass.
Proof of vaccination –or– negative COVID PCR test required for entry. Masks required. More info.
See the 2022 New African Film Festival program on their website.
Film Highlight
A FIRE WITHIN (March 20th) - an award-winning human rights documentary that chronicles the unbelievable journey of three Ethiopian Women who are survivors of torture & their historic attempt to bring their own torturer to justice here in the U.S.
Categories
Announcement and News