In Memory of Prof. Sulayman Nyang
November 14, 2018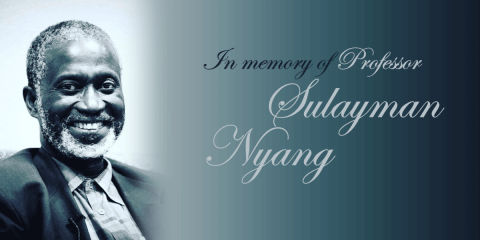 It is with great sadness that we inform you of the passing of Dr. Sulayman S. Nyang. We have lost a colleague, a friend, a brother, a mentor. 
Dr. Nyang was a internationally-respected diplomat, scholar, teacher, and community leader. Below please read more about his life in a letter from Howard University's Board of Trustees to his wife.
November 14, 2018
Dear Ms. Mbachu:
                Stacey J. Mobley, Esq., Chairman of Howard University's Board of Trustees, and I respectfully advise you of the adoption of the following resolution by the Howard University Board of Trustees:
RESOLUTION
                The Board of Trustees of Howard University wishes to include in its official record an expression of sincere condolence to Ms. Eucharia Mbachu on the passing of her beloved husband, Sulayman S. Nyang, Ph.D., esteemed educator, respected scholar and cherished colleague.  Dr. Nyang joined the faculty of Howard University in 1978 after receiving his doctoral degree from the University of Virginia. He served as professor of African Studies and also as department chair until his retirement in 2016.  Throughout his distinguished and prolific career, Dr. Nyang advanced greater understanding of Islam. His research and teaching have informed students, teachers, scholars and others in the United States and abroad.  Dr. Nyang was an inaugural member of the Howard University Interfaith Advisory Board, where he worked to foster understanding and build bridges, guided by his deep and abiding faith that our similarities as people eclipse our differences in religion and culture.  Dr. Nyang was always optimistic about Africa, Howard University and Howard's African Studies faculty and staff.  We are very fortunate to have had him on our faculty for so many years; he symbolized the essence of Pan-Africanism which he lived and demonstrated throughout his life.  Dr. Nyang will be missed by many throughout the world, but his work will continue to inform us all for decades to come.
                Words cannot adequately express our heartfelt sympathy to Ms. Eucharia Mbachu, Dr. Nyang's children Ms. Edna Nyang and Mr. Sulayman Nyang, Jr., and their entire family.  The Board desires to convey that all of our members share in their loss.
                Be It Therefore Resolved: This expression of sympathy in response to the death of Sulayman S. Nyang, Ph.D. be spread upon the minutes of the Board of Trustees of Howard University.
                                With sympathy and compassion,
                                Wayne A. I. Frederick, M.D., MBA
                                President
Categories