Introducing a new radio show, Music In Culture: Sounds of the Black Experience on WOWD 94.3 fm
June 29, 2018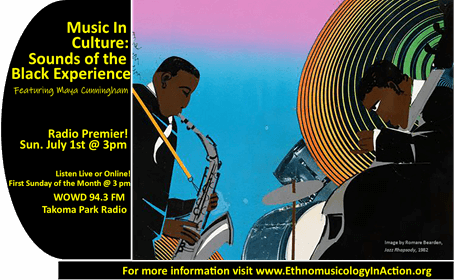 Introducing a new radio show, Music In Culture: Sounds of the Black Experience on WOWD 94.3 fm fromTakoma Park starting Sunday, July 1st at 3:00 pm. This is a fresh new show that uses the approach of ethnomusicology to explore the many genres of Black music from all over the world, from African American jazz and blues to Afro Brazilian Samba Schools and South African protest anthems. Music In Culture will feature international and local interviews with musicians, artists and activists from Africa and the Diaspora, sound documentaries and the music!
About Sunday, July 1st:
South Africa has a rich jazz tradition. WOWD invites you to our South African protest jazz series, starting this Sunday at 3pm. 
Our 'Summer in South Africa' series includes the following shows:
Hugh Masekela, a Jazz Warrior (July 1st)
Music, Marriages and the Transnational Conversation Between Black America and South Africa (Aug. 5th)
Winston Ngozi and the Capetown Coltrane Lineage (Sept. 2nd)
Tune in this Sunday and every first Sunday at 3:00 pm! If you miss it, find the recording link on www.EthnomusicologyInAction.org.
Categories
Announcement and News