Howard Participation at ASA 2022
October 26, 2022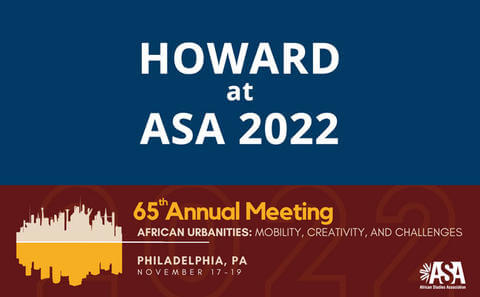 What panels are Howard faculty presenting on at the 65th African Studies Association (ASA) Annual Meeting? Here is the list!
The ASA Annual Meeting is the largest gathering of Africanist scholars in the world and is the flagship event of the association.
This year's theme is "African Urbanities: Mobility, Creativity, and Challenges"
In-person in Philadelphia, PA
November 17 - 19
See the full listing of panels with Howard presenters:
HU Presenters:
Babajide Tella
Anita Plummer
Benjamin Talton
Alem Hailu
Mohamed Camara
Anita Plummer
Florie Bugarin
Wheeler Winstead
Jarpa Dawuni
Tiffany C Wheatland
Mouhamadou Hoyeck
Constance Pruitt
Aichatou Nimaga
Miranda Rivers
Brenda Randolph
Susanna Sacks
Ana Lucia Araujo
Helen Bond
Mabeko-Tali
Elijah Zehyoue
Benjamin Talton
Also Vanessa Oyugi and Brenda Randolph will be presenting at the African Studies Annual Teachers' Workshop 2022 on Saturday, November 12.
Categories
Announcement, News and Alumni-Faculty-Student Highlights