Graduate Highlight - Julius G. Johnson
May 19, 2022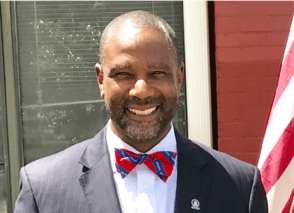 Julius G. Johnson graduated with a Ph.D. in African Studies this spring. His dissertation was titled "The Role of Islam in the Construction and Affirmation of Identity in the Nation of Islam & The Leyenne Brotherhood in Senegal." 

Dr. Johnson currently serves with the United States Agency for International Development based in Nairobi Kenya as a Foregin Service Officer (FSO).  His portfolio includes amongst other things, Democracy and Governance where he monitors USAID's and interagency efforts to counter and prevent violent extremism.

Dr. Johnson brings more than 25 years of international development experience to USAID. He is also the founder of The Newberry Institute, a 501c3 nonprofit committed to democracy, and development in rural communities throughout the state of Georgia. From 2009 to 2013, Johnson served with the Obama Administration as a Governance Specialist in Khas, Kunar Afghanistan, and later at the Foreign Service Institute (FSI) as the Subject Matter Expert and Course Coordinator for the field based civilian military training course at Muscatatuck, Indiana.  Prior to this, Johnson served as the Regional Coordinator for the Middle East and East Africa with the Global Food for Education Initiative (GFEI) at the Foreign Agriculture Service (FAS). 
Categories
Announcement, News, Alumni-Faculty-Student Highlights, Student Highlights and Achievement