Engaging with the U.S.-Africa Leaders Summit
December 16, 2022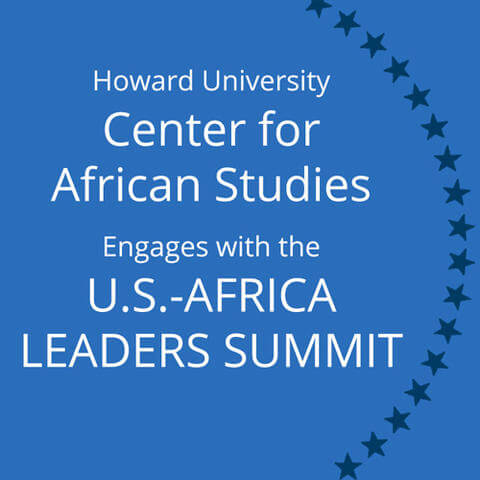 The Center for African Studies at Howard University led events and initiatives with diverse perspectives and diaspora voices in the conversation on the U.S.-Africa Leaders Summit which President Biden hosted on December 13-15, 2022 with leaders from across the African continent in Washington, DC.

The Center co-hosted three sideline events for the Summit together with political leaders, civil organizations and university partners. Recordings from the events are available farther below.
African Language Translation Initiative
On the eve of the U.S.-Africa Leaders Summit, the Center for African Studies announced the launch of the African Languages Translation Initiative (ALTI) and the release of translations of the U.S. Strategy Toward Sub-Saharan Africa into Amharic, Swahili, Yoruba, and Zulu. ALTI will continue to encourage inter-cultural communication and understanding between Americans and Africans through the translation of documents, texts and information into critical African languages. 
Historically Black Colleges and Universities (HBCU)-Africa Correspondents Corps
The Center also launched the HBCU-Africa Correspondents Corps (HBCU-ACC). HBCU-Africa reporters and commentators provided coverage before, during and after the U.S.-Africa Leaders Summit. HBCU-ACC will continue to provide student journalists and political scientists attending HBCUs with professional development exposure and experience beneficial to pursue a career as an international correspondent or political commentator. HBCU-ACC will also work to broaden and deepen networks between HBCU students and their counterparts in Africa and the global African Diaspora.      
Events
Event Recordings
Conversation on Women and Trade: Advancing African and Diaspora Women in the Global Marketplace (Dec 12, 2022)
HOWARD PARTNERS:
Center for African Studies
Center for Women, Gender and Global Leadership
Ralph J. Bunche International Affairs Center 
Africa's Future: University Partnerships, Business, Tech & Open Diplomacy (Dec 16, 2022)
PARTNERS:
African Centre for the Study of the U.S., University of the Witwatersrand, Johannesburg
Annenberg Center for Communication Leadership and Policy, University of Southern California
Center for African Studies, Howard University
Institute for African Studies, George Washington University
Public Diplomacy Council of America
Global Pan African Peoples Intervention on the US-African Leaders Summit (Dec 10, 2022)
PARTNERS:
Global Pan African Movement
Center for African Studies, Howard University
Syracuse University 
Categories
Announcement and News