Dr. Krista Johnson on African Ancestry
February 17, 2022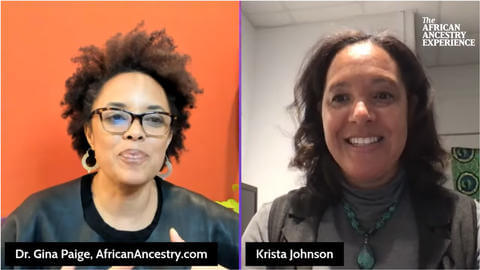 "We all know that Black History Month was the result of Carter G. Woodson's efforts to ensure that all Americans are educated about the untold history and overlooked achievements of Black Americans. Dr. Krista Johnson, Director, Center for African Studies at Howard University, and Chairman Fred Hampton Jr. of the Prisoners of Conscience Committee and the Black Panther Party Cubs, joined African Ancestry to celebrate Black history across the African Diaspora - and they dropped numerous gems!" - African Ancestry on Feb 16, 2022.
Hosted by Dr. Gina Paige, The African Ancestry Experience airs weekly on Facebook and YouTube and gathers notable people across the African Diaspora to discuss what it means to transform the way Black people view themselves and Africa.
Producer, Wendi Cherry for African Ancestry
7:53 Dr. Krista Johnson shared her surprising connection to Africa.
13:07 The role of the Center for African Studies in K-12 schools and the importance of learning African languages.
23:04 Chairman Fred Hampton, Jr. shares how he describes his identity and why he is honored to carry on the struggle for self-determination.
25:55 Chairman Fred, Jr. shares a story about reacting and correcting his teacher during a "black history' lesson in school.
29:02 The work of the Black Panther Cubs and the African Anti-Terrorism Bill.
33:26 Dr. Krista Johnson connects the ties of revolution between the Continent and the US's movements for liberation.
Categories
Announcement, News and Faculty/Staff Highlights