Congratulations to Tiffany Thames Copeland for the Fulbright Scholar Grant!
September 1, 2022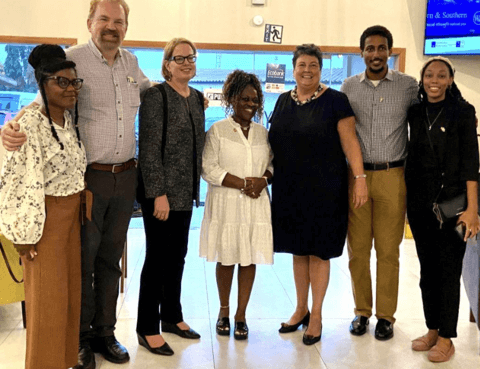 Tiffany Thames Copeland, PhD, a Howard University alumna, was recently awarded a Fulbright U.S. Scholar grant. The Fulbright grant is a prestigious award offered by the United States Department of State. The Fulbright Foreign Scholarship board members--appointed by the President of the United States--selected Dr. Copeland as a grant recipient. 
Dr. Copeland is one of five Fulbrighters to Ghana for the 2022 to 2023 academic term; during this time, she will operate as a United States citizen ambassador. She will conduct research while teaching at Kwame Nkrumah University of Science and Technology, in Ghana. Her research focuses on the role of digital technology in the Back to Africa Movement of the 21st Century. She will investigate the digital experiences of the African Diaspora who have "returned" to Ghana, during Ghana's officially designated "The Year of Return." 
Dr. Copeland is looking forward to sharing the results of her research study with the Howard University community upon the completion of her enriching intercultural assignment. 
Categories
Announcement, News, Alumni-Faculty-Student Highlights and Alumni Highlights