Congratulations to Christine Kindler for Peace Scholar Fellowship
August 24, 2022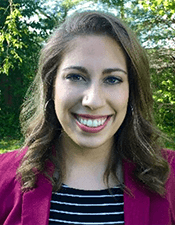 Congratulations to Christine Kindler who has been awarded a Peace Scholar Fellowship from the U.S. Institute of Peace (USIP) for her outstanding dissertation "Peace Conversation Circles: Promoting Agonistic Historical Dialogue in Post-Genocide Rwanda." We also congratulate Professor Ezer Kang as advisor and affiliate faculty of the Center for African Studies. The official USIP press release announcing the 2022-23 cohort and their bios can be found here: usip.org/press/2022/07/usip-announces-2022-2023-peace-scholar-dissertation-fellows.  
The Peace Scholar Fellowship Program is a key initiative reflecting USIP's commitment to promote research in support of our congressional mandate to help prevent, mitigate, and resolve violent conflict abroad. We are proud of the many recipients who have gone on to distinguished careers in research, higher education, and policymaking.  
Dissertation Summary
Local conversations about the 1994 genocide against the Tutsi in Rwanda are often avoided or minimized, despite the emergence of national programming that promotes peace and reconciliation. Silence or misinformation about the genocide opens the door for genocide denial narratives to emerge, particularly among Rwandan youth. Christine's dissertation project focuses on the development and efficacy of "Peace Conversation Circles," a program that consists of locally led, semi-structured dialogues between older adults who experienced the genocide and subsequent generations of youth. Utilizing a participatory action research approach, the project is being conducted in partnership with a local grassroots organization, the Christian Action for Reconciliation and Social Assistance (CARSA).
Biography
Christine Kindler is a Ph.D. candidate in the Clinical Psychology program at Howard University, where she is a member of the Global Community Health Lab. Her overarching research interests include the development and evaluation of culturally-responsive, evidence-based interventions aimed at addressing psychosocial needs that emerge in conflict and post-conflict settings. Christine is particularly focused on utilizing participatory action research methods to contextualize and implement mental health interventions with community partners. Before beginning her doctoral studies, Christine worked in the field of peace education, both in the U.S. and Afghanistan. She holds a B.A. in History from the University of Kentucky and a M.A. in Conflict Transformation from Eastern Mennonite University. 
Categories
Announcement, News, Student Highlights and Achievement