Book Release: Language Policy and Economics: The Language Question in Africa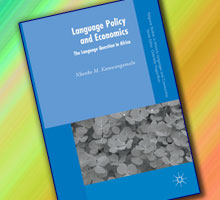 About the Book:
This book addresses the perennial question of how to promote Africa's indigenous languages as medium of instruction in educational systems. Breaking with the traditional approach to the continent's language question by focusing on the often overlooked issue of the link between African languages and economic development, Language Policy and Economics argues that African languages are an integral part of a nation's socio-political and economic development. Therefore, the book argues that any language policy designed to promote these languages in such higher domains as the educational system in particular must have economic advantages if the intent is to succeed, and proposes Prestige Planning as the way to address this issue. The proposition is a welcome break away from language policies which pay lip-service to the empowerment of African languages while, by default, strengthening the stranglehold of imported European languages.
About the Author:
Nkonko M. Kamwangamalu is Professor of Linguistics at Howard University, Washington, DC. He is co-Editor of Current Issues in Language Planning, author of The Language Situation in South Africa(2004), of articles in Chicago Linguistic Society, Georgetown Roundtable on Language and Linguistics, International Journal of the Sociology of Language, Multilingua, Applied Linguistics,World Englishes, Language Problems and Language Planning, Journal of Multilingual and Multicultural Development, Studies in the Linguistics Sciences, to name a few, and of chapters in edited collections.
Categories
Announcement, News and Book Release