Book Release: The Diaspora's Role in Africa
October 29, 2021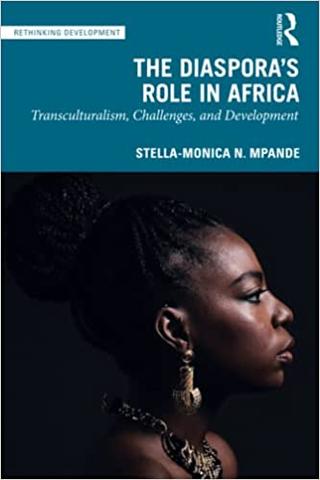 AUTHOR: Stella-Monica N. Mpande, Ph.D.
BOOK TITLE: The Diaspora's Role in Africa: Transculturalism, Challenges, and Development
Release Date: November 8, 2021
About the Book:
Africans living in the diaspora have a unique position as potential agents of change in helping to address Africa's political and socioeconomic challenges. In addition to sending financial remittances, their multiple, hybrid identities in and out of geographical and psychocultural spaces allow them to play a role as cultural and political ambassadors to foster social change and sustainable development back in their African homelands. However, this hybrid position is not without challenges, and this book reflects some of the conundrums faced by members of the diaspora as they negotiate their relationships with their home countries.
The author uses her lived experiences and empirical research to ask: are members of the diaspora conduits of Western cultural hegemony at the cost of their traditional preservation and meaningful development in Africa? How does the Western media's portrayal of Africa as the "Dark Continent" in the 21st century influence their decision-making process to invest back home? How could African nations' governments manage their relationships with citizens abroad to motivate them to invest in their home countries? How do some citizen-residents in Africa and African Diaspora communities perceive each other in the context of Africa's development? How could the African Diaspora collaborate with citizen-residents across growth sectors to impact Africa's development? The book hopes to inspire agents of change within the diaspora and features diverse African entrepreneurs' success stories and their experiences of tackling these challenges.
About the Author:
Stella-Monica N. Mpande is an award-winning multifaceted business and media professional, entrepreneur, and critical communications, cultural, and media scholar. Born in English-speaking Uganda, raised in French-speaking Côte d'Ivoire, prior to relocating to the United States, Dr Mpande's transcultural upbringing influences her works and personal experiences.
Dr. Mpande has taught at Howard University, where she earned her PhD, and at Johns Hopkins University as full-time faculty and a program coordinator. Her research in African development, diasporic affairs, diversity and inclusion, communications, and relationship management has been published in several articles and books. Dr Mpande's versatile professional experiences in broadcast journalism, public relations, global marketing communications and advertising, the performance arts, ethics, and compliance have led to her global career with Fortune 500 companies, as well as international development and multilateral development organizations. Currently, she is an Ethics Officer at the World Bank Group.
Categories
Faculty and Alumni Publications and Book Releases