Biography Ngugi wa Thiong'o
June 22, 2020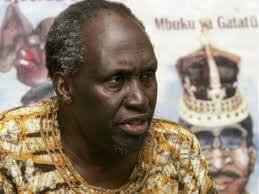 Ngugi wa Thiong'o, currently Distinguished Professor of English and Comparative Literature at the University of California, Irvine, was born in Kenya, in 1938 into a large peasant family. He was educated at Kamandura, Manguu and Kinyogori primary schools; Alliance High School, all in Kenya; Makerere University College (then a campus of London University), Kampala, Uganda; and the University of Leeds, Britain. He is recipient of seven Honorary Doctorates viz D Litt (Albright); PhD (Roskilde); D Litt (Leeds); D Litt &Ph D (Walter Sisulu University); PhD (Carlstate); D Litt (Dillard) and D Litt (Auckland University). He is also Honorary Member of American Academy of Letters. A many-sided intellectual, he is novelist, essayist, playwright, journalist, editor, academic and social activist.
The Kenya of his birth and youth was a British settler colony (1895-1963). As an adolescent, he lived through the Mau Mau War of Independence (1952-1962), the central historical episode in the making of modern Kenya and a major theme in his early works.
Ngugi burst onto the literary scene in East Africa with the performance of his first major play, The Black Hermit, at the National Theatre in Kampala, Uganda, in 1962, as part of the celebration of Uganda's Independence. "Ngugi Speaks for the Continent," headlined The Makererian, the Student newspaper, in a review of the performance by Trevor Whittock, one of the professors. In a highly productive literary period, Ngugi wrote additionally eight short stories, two one act plays, two novels, and a regular column for the Sunday Nation under the title, As I See It. One of the novels, Weep Not Child, was published to critical acclaim in 1964; followed by the second novel, The River Between (1965). His third, A Grain of Wheat (1967), was a turning point in the formal and ideological direction of his works. Multi-narrative lines and multi-viewpoints unfolding at different times and spaces replace the linear temporal unfolding of the plot from a single viewpoint. The collective replaces the individual as the center of history.
In 1967, Ngugi became lecturer in English Literature at the University of Nairobi. He taught there until 1977 while, in-between, also serving as Fellow in Creative writing at Makerere (1969-1970), and as Visiting Associate Professor of English and African Studies at Northwestern University (1970-1971). During his tenure at Nairobi, Ngugi was at the center of the politics of English departments in Africa, championing the change of name from English to simply Literature to reflect world literature with African and third world literatures at the center. He, with Taban Lo Liyong and Awuor Anyumba, authored the polemical declaration, On the Abolition of the English Department, setting in motion a continental and global debate and practices that later became the heart of postcolonial theories. "If there is need for a 'study of the historic continuity of a single culture', why can't this be African? Why can't African literature be at the centre so that we can view other cultures in relationship to it?" they asked. The text is carried in his first volume of literary essays, Homecoming, which appeared in print in 1969. These were to be followed, in later years, by other volumes including Writers in Politics (1981 and 1997); Decolonising the Mind (1986); Moving the Center (1994); and Penpoints Gunpoints and Dreams (1998).
Categories
LibGuide