Annual International Women's Day Celebration
March 17, 2020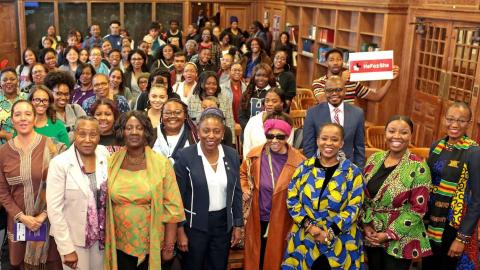 The Annual International Women's Day at Howard is funded in part by the Academic Faculty Enhancement and Enrichment (AFEE) Program at the Center for African Studies at Howard University.
Beginning in 1975, the United Nations (UN) mandated March 8 as the day of women. March 8 reflects the work of women and men from around the world that have fought for gender equality in the work place, politics, and education. Women have played active roles including but not limited to human rights, gender equality, civil rights and social movements. The day is celebrated around the world by governments, women's organizations, civil society and institutions of higher education. In some countries such as Afghanistan, Bulgaria, China, Uganda and Vietnam, March 8 is a national holiday. Globally, events are held to highlight the struggles, achievements and roles women play in the social, political and cultural development of local and global societies. Women are honored for their struggles to freedom and that fight has not been won. At the same time, we are reminded how women have different struggles and experiences but unite under the common goal of making change.
International Women's Day at Howard University
Since 2017, Howard University has built a tradition by joining the global system in celebrating and reflecting on Black Women. An annual celebration at Howard University is organized with guest speakers, performances and student participation by the Women, Gender, and Sexualities Collective (WGSC) at Howard University with its director, J. Jarpa Dawuni, Esq., Ph.D.
The goals of the event include:
1) Provide a platform for raising awareness on global gender issues with a focus on Africa.
2) Engage students, the intellectual, policy and activist communities on gender issues from a transnational perspective with a focus on Africa.
3) Encourage faculty to develop courses on women and gender issues.
International Women's Day Celebration Flyers
Categories
Blog and AFEE