Alumni Highlights: Interview with Darryl L. Jones II
March 29, 2021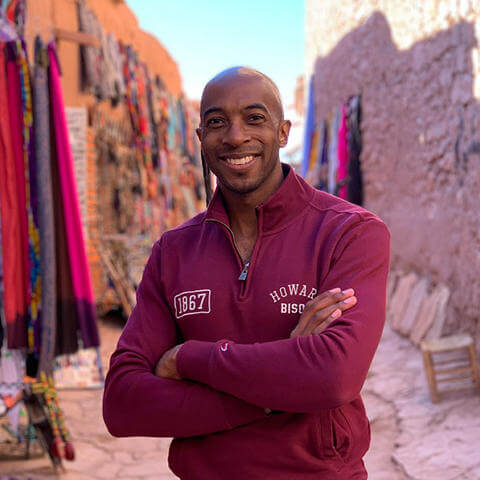 We interviewed our alumnus, Darryl L. Jones II, regarding his Ph.D. education and language training at Howard. Darryl is a proud Ph.D. graduate of Howard University's Department of African Studies and Research and the historic class of 2020.  At Howard, his academic research explored the nexus of climate change, environmental degradation, and human security – specifically that of descent-based slavery and issues of terrorism – in Mauritania, under the direction of Dr. Alem Hailu.  In 2019, he was awarded a Foreign Language and Area Studies (FLAS) Fellowship through the Center for African Studies to study Arabic in the Sultanate of Oman, and was a recipient of the prestigious David L. Boren Awards to undertake an Arabic study fellowship in Morocco.  Darryl credits Howard University, the Department of African Studies and Research, and Dr. Hailu for preparing him in his current role with the federal government, where he uses the organizational, research, and language skills acquired in the program for the benefit of national security and diplomacy.  

Darryl has been published in "The Journal of Bodies, Sexualities, and Masculinities" (2020) and "The Black Scholar" (2019), and has forthcoming publications on human enslavement, gender, and climate change in Mauritania.  In addition to his doctorate, he holds a Master of Arts in African Studies from the University of Ghana, and a Bachelor of Science in Business Administration from the International University of Monaco.

How are you using your PhD education and training in your current position?

I believe my Ph.D. education and training were fundamental in helping me secure my current position.  The duties and responsibilities associated with my current work require that I analyze and infer information thoroughly, and translate it concisely and comprehensively to my audience, which includes our senior national political leaders.  The research papers required by practically every course in the program enabled me to further cultivate my writing skills by not only enhancing my verbiage and syntax, but also by incorporating the feedback of my professors who would offer advice and suggestions on the relevance and suitability of specific content.  This has proven especially critical due to the fact that much of the written work I produce calls for strict word limits (often no more than 300), requiring that I address only the most salient information.  

Critically, because I research and analyze information disseminating from Africa, my education and training have reminded me to view the continent as one that is multifaceted, dynamic, and best viewed through the lenses of humanism and subjectivity (i.e., individual societies and their histories and current realities, as opposed to regions or the continent as a whole).  This is especially important to me because I know that I am contributing to our national political conversations about Africa with an ethical and understanding mind. 

How are you using your African language training in your current position?

My African language training (Arabic) enabled me to obtain a lucrative signing bonus as well as monthly incentive pay to continuously improve my proficiency.  It is noteworthy that I had no knowledge of the language prior to my studies at Howard.  In addition to Arabic, I studied Tamazight ("Berber") and its associated alphabet script, Tifinagh, which even most Tamazight speakers are unable to read or write due to its (re)creation and (re)introduction into northwest African societies only a few decades ago.  I have not been able to use my Tamazight language skills in a professional capacity as of yet, but because it is a specialized language and critical in northwest Africa, I am certain that they will be employed and proved useful in assisting with certain activities.
Categories
News, Alumni-Faculty-Student Highlights and Alumni Highlights