STOLEN, DESTROYED, COMMODIFIED: African Material Culture and Heritage
October 19, 2021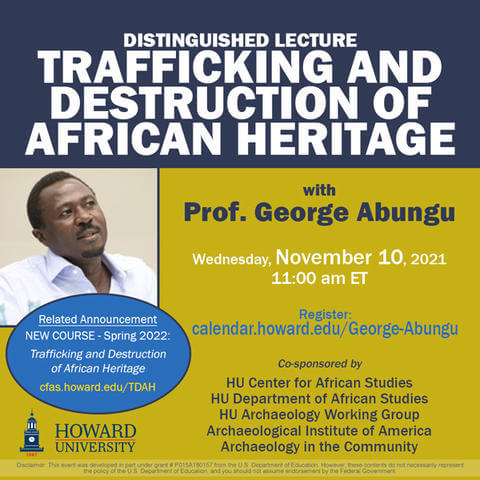 STOLEN, DESTROYED, COMMODIFIED: African Material Culture and Heritage - The Center for African Studies is supporting a series of events organized by Howard faculty and students around this important and timely topic. The initiative includes:
About the Course: Trafficking and Destruction of African Heritage (Spring 2022)
The Department of African Studies announces a new undergraduate course offered this Spring 2022, Trafficking and Destruction of African Heritage. The smuggling of cultural property and the destruction of tangible culture, long considered profound and intractable problems, have reached critical proportions worldwide. The illicit trade in antiquities is a multi-billion-dollar criminal industry that is often ranked as the third largest black-market trade following the trafficking in drugs (both narcotics and counterfeit medicines) and weapons. In addition, the trafficking of material culture is often inextricable from these types of illicit trades as well as other types of crime, such as corruption, bribery, money laundering, and human trafficking. Illicit trade and the destruction of cultural sites damage the global economy and impacts all corners of the globe and industry sectors.
The goal of this new interdisciplinary course is to address the "hot" topic of trade in illicit antiquities and the destruction of archaeological, heritage, and cultural sites in Africa. The curriculum will examine how this material has been modified, destroyed, commodified, and lost due to the political, cultural, and economic impacts of Western expansionism, imperialism, and colonialism, followed by post-colonialism, social and environmental injustice, Apartheid, conflict/war, and international development.
This course will serve as a center to a broader discussion surrounding the loss of African heritage. Throughout the coming year, we will offer guest lectures and other programming that raise awareness about the degree to which African material culture and heritage is stolen, loss, destroyed or commodified. We will launch an initiative that engages faculty, staff, and a wider audience in discussions that measure the damage, explain the causes, examine those involved in the trade, and propose potential solutions. This new course and the related events throughout campus will strive to create leaders that lead in the conservation and protection of the global Black past.
The course is being co-taught by:
Dr. Flordeliz T. Bugarin, Associate Professor, Department of African Studies
Dr. Eleanor King, Professor, Department of Sociology and Criminology
Categories
Announcement and News