November 19, 2020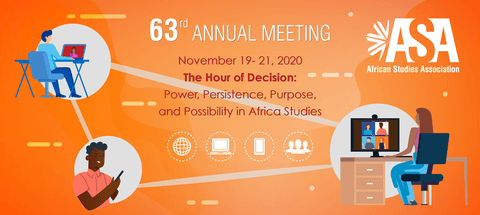 This year, at the 63rd Annual Meeting of the African Studies Association (ASA), Howard University has a strong representation. Below please find the Howard faculty and students who are presenting along with their sessions and paper titles.
The African Studies Review together with the ASA Board launched a distinguished lecture in 2011 featuring state of the art research in African Studies. This year, the speaker will be Bob Edgar, Professor Emeritus of Howard University.
The ASA Annual Meeting is the largest gathering of Africanist scholars in the world.
---
Session: Africans and Europeans: Exchanging Luxury Products During the Era of the Atlantic Slave Trade
Thursday, November 19, 12:00-1:45pm Eastern
Cabinda: A Busy African Slave Port
Presenter: Ana Lucia Araujo, Howard University
---
Session: The State and Democracy in Africa
Thursday, November 19, 12:00-1:45pm Eastern
A Perspective Focus on the George W. Bush Presidency and Democratization in Sub-Sahara Africa
Presenter: Oluwaseyi Ajayi, Howard University
---
KEYNOTE: African Studies Review Distinguished Lecture and Q&A: Bob Edgar
Friday, November 20, 12:00-1:45pm Eastern and On Demand
African Voices Matter: Reflections on Fifty Years of Historical Research in Southern Africa
Speaker: Bob Edgar, Howard University
---
Session: Debates on Restitution and Repatriation Claims: African Heritage in the Museum
Friday, November 20, 2:00-3:45pm Eastern
Chair: Jean-Michel Mabeko-Tali, Howard University
Discussant: Ana Lucia Araujo, Howard University
---
Session: COVID, Conflicts, and Sociopolitical Instability in Global Africa: Appraising the Current and Future Impact of the Crisis on Human Security in Nations and Communities
Friday, November 20, 4:00-5:45pm Eastern
Chairs: 
Alem Hailu, Howard University
Mohamed Camara, Howard University
Presenters:
Krista Johnson, Howard University
Wheeler Winstead, Howard University
Phiwokuhle Mnyandu, Howard University
Rashid Nur, Howard University
---
Session: Nature, Culture, Power in food security and Resource Management
Friday, November 20, 6:00-7:45pm Eastern
Is coal the past or the future? Environmental justice, growth and sustainability in Kenya
Presenter: Anita Plummer, Howard University
---
Session: Language Policy in Kenya: Multilingualism as Both Problem and Solution
Friday, November 20, 6:00-7:45pm Eastern
Prescribed Language Policies in the Age of Liberalized Media in Kenya
Presenter: Leonard Muaka, Howard University
Addressing the Animus Dominandi Factor in Linguistic Imperialism in Africa
Presenter: Mkawasi Hall, Howard University
The Place of Translanguaging in Kenyan Primary Schools: The Case of Mutituni and Nyika Primary Schools
Presenter: Esther Lisanza, Howard University
---
Session: African Understandings and Agency in China-Africa Engagements
Saturday, November 21, 8:00-9:45am Eastern
"Flying Geese" or False Promises: Assessing the Viability of Foreign-Direct Investment-Driven Industrialization in Nigeria's Shoe Manufacturing Industry
Presenter: Aisha Udochi, Howard University
---
Roundtable: Reflecting on the 20th Anniversary of the Durban Conference
Saturday, November 21, 2:00-3:45pm Eastern
Presenter: Krista Johnson, Howard University
---
Roundtable: Podcasts and the Study of Africa: A Digital Technology's Impact on Research, Teaching, and Public Engagement
On Demand
Presenter: Msia Kibona Clark, Howard University
---
Session: Addressing the Challenges of Conflicts, Nation-Statehood and Security in Africa: Rethinking Conventional Explanations and Strategies
On Demand
Chair: 
Rashid Nur, Howard University
Presenters: 
Daryl Jones, Howard University
Canice Enylaka, Howard University
Alem Hailu, Howard University
Yohannes Halle, Howard University
Categories
Announcement, News, Alumni-Faculty-Student Highlights, Alumni Highlights, Faculty/Staff Highlights, Student Highlights and Achievement