Virtual Internship Opportunity with the Africa Program at the Woodrow Wilson Center
July 14, 2022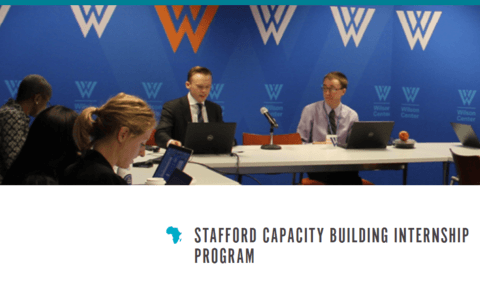 Deadline: July 22, 2022
The Africa Program at the Woodrow Wilson Center for International Scholars in Washington D.C is seeking two interns for the Fall 2022 term, which will run from September to December 2022. The application deadline is July 22, 2022.
About The Wilson Center Africa Program 
The Africa Program works to increase knowledge and understanding of Africa, address the most critical issues facing Africa, and build stronger and stronger, mutually beneficial U.S.-Africa relations. The Africa Program centers its work on four programmatic pillars: 
1.     Good Governance and Leadership 
2.     Conflict Prevention, Peacebuilding, and Security 
3.     Trade, Investment, and Sustainable Development 
4.     Africa's Evolving Role in the Global Arena  
Underlying these pillars is a cross-cutting focus on the roles of women, youth, and technology. 
About the Stafford Capacity Building Internship 
The Stafford Capacity Building Internship Program at the Africa Program works to develop the professional capacities and skills of the next generation of Africanists and public policy professionals. It does so by bringing a diverse group of qualified students with an interest in, coursework related to, or experience working on Africa-related issues to support the mission and work of the Africa Program while exposing them to practical experience and professional development opportunities in an environment that mixes public policy and research.  During their tenure, interns will have the opportunity to contribute to all aspects of the Africa Program's work including administrative, research, and logistics. This paid 12-week internship is generously funded by Mr. Earl W. Stafford at 20 hours per week. 
Application Requirements 
Applications should contain a resume, cover letter, and completed application form. Please note that all application materials should be sent by email to africa@wilsoncenter.org. Instructions on how to compile the files are here.
Should you have any questions, do not hesitate to contact me via our africa@wilsoncenter.org email.  More information about the Africa Program and the internship can be found on our website at https://www.wilsoncenter.org/opportunity/africa-program-capacity-building-internship-program. 
Categories
Announcement, Opportunities and Internship Opportunity