Fulbright Group Advising (April 15-30)
April 14, 2021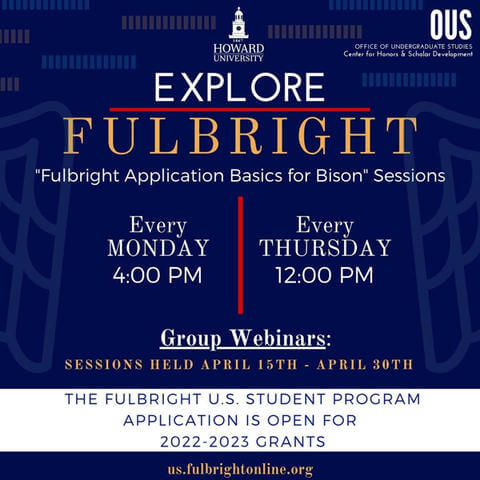 Last Webinar: April 29, 2021
The Fulbright Application for the 2022-2023 academic year is now open. The U.S. State Department provides Fulbright grants for study, research and English teaching opportunities abroad for U.S. college graduates.
We will begin Fulbright Group Advising Sessions this week to provide an overview of the U.S. Fulbright Student Program and the HU application endorsement and submission process for the upcoming October 2021 deadline for rising seniors, graduate students and alumni.
Please register here to receive Fulbright updates and the Zoom Meeting Info for Group Advising Sessions, April 15-30: https://forms.gle/LmiXVh1Fp4FRLMPg9
U.S. Citizenship is required for eligibility, at the time of application in October.
Categories
Announcement, Opportunities, Funding Opportunity and Fellowship Opportunity