FLAS-Eligible Intensive Summer Multilanguage Seminar at University of Wisconsin-Madison
December 19, 2020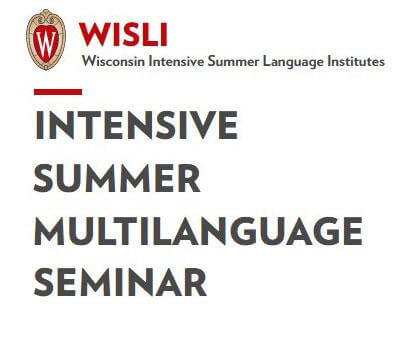 Deadline: April 1, 2021
The University of Wisconsin-Madison is pleased to offer a new FLAS eligible online summer language program that may interest students in your networks.  The Intensive Summer Multilanguage Seminar, developed by Professor Katrina Daly Thompson and led by Dr. Adeola Agoke, allows students engage in supported, self-directed language study.
A NEW PROGRAM FOR ADVANCED LANGUAGE LEARNERS & THE STUDY OF RARE LANGUAGES
The target audience for this new program includes students who are not well-served by a traditional summer language program for one of two reasons:
Students who have achieved such an advanced language proficiency that traditional programs no longer serve their learning needs, or 

Students who are studying extremely rare languages that are otherwise not offered in the classroom 
This program is intended to complement existing summer language programs; as such, students who are eligible to enroll in a traditional language program should be encouraged to do so. Such students would not be competitive candidates for the Intensive Summer Multilanguage Seminar.  
ENROLLMENT DETAILS
Students wishing to study languages from any world region are eligible to apply. The Intensive Summer Multilanguage Seminar will be offered as an online asynchronous course, so students can take part from anywhere. Enrollment will be limited in order to fully support each learner. Interested students should contact the Wisconsin Intensive Summer Language Institutes program office (wisli@iris.wisc.edu) as soon as possible to determine their eligibility. More information on the program, including fees and application details can be found on the Intensive Summer Multilanguage Seminar website.  Applications are due April 1, 2021. 
FLAS ELIGIBILITY
Students may be eligible to use a Foreign Language and Area Studies (FLAS) award to enroll in this program. As with any FLAS award, the awardee's course of study must be approved by the relevant International and Foreign Language Education program officer. Please consult with your regional program officer to discuss the unique circumstances of your FLAS student(s). The IFLE Program Officers are aware of the Summer Intensive Multilanguage Seminar and prepared to review requests for summer FLAS funding. Students wishing to study an African language through the Summer Intensive Multilanguage Seminar may also apply for a summer FLAS award via the University of Wisconsin-Madison African Studies Program.  UW-Madison FLAS applications are due February 15, 2021. 
COURSE DESCRIPTION
A theoretical and practical exploration of second language acquisition (SLA) and self-instructional methods. Test and/or modify one or more theories/methods by putting these self-instructional methods into practice in order to learn a less commonly taught language (LCTL). 
By the end of this course, students will be able to:
Create an individualized study plan for learning a less commonly taught language (LCTL)

Explain the characteristics of a good language learner according to Second Language Acquisition (SLA) theories

Discuss and write about the application of SLA theories to language self-instruction

Find, evaluate, and create learning materials for a LCTL

Train a conversation partner to help them learn a language

Use the internet to conduct research and share information with others

Use metacognitive strategies to evaluate and improve their learning, compare different learning strategies, and style-shift

Assess your achievement of their learning goals
The credit standard for this course is met by an expectation of a total of 360 hours of student engagement with the course learning activities, which include reading, writing, self-assessment, language-learning activities, meetings with speakers of the target language, and other student work as described in the syllabus.
Categories
Announcement and Opportunities