Call for Papers: Sister Cities International Africa Summit in February 2023
June 24, 2022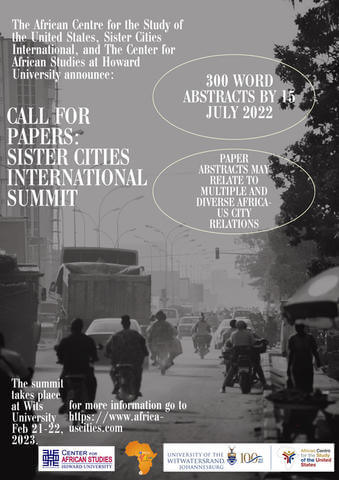 Submission Deadline: Friday, July 15, 2022
Submit your abstract for inclusion in the Sister Cities International Africa Summit in February 2023
The organizing committee of the Multidisciplinary Dialogue on Africa-U.S. Cities' Relations invites 300-word conference paper abstracts from academics, political leaders, business professionals, funding agencies, and practitioners facilitating relations between African and U.S. cities. The conference will be held from February 21-22, 2023, at the University of the Witwatersrand, Johannesburg, South Africa.
The conference, organized by the African Centre for the Study of the United States (ACSUS) in partnership with Sister Cities International, builds on activities where cities play a vital role: economic development, health care, equity and social justice, education, climate change and sustainable development, and other areas. These issues have brought together a wide variety of participants and organizations involved in municipal, regional, and national government activities within a given country as well as within Africa's subregions and the entire African continent.  
The February 21-22, 2023, conference provide an opportunity to hear about existing successes and challenges, highlighting areas of cooperation across continents, lessons learned from earlier interactions, and identification of best practices to be shared. It also aims to highlight opportunities for future cooperation particularly the building of consortia, not just between and among the cities but also between and among practitioners and scholars and the funding agencies that support their activities.
Categories
Announcement, Opportunities and Call for Abstracts/Papers/Proposals